Konnie Brown is the main protagonist of I Just Visited Gravity Falls!
Konnie Brown
Background information
First seen
'
Voice
Khanya Brown
Inspiration
A real-life Gravity Falls fan
Honors and awards
Character information
Full name
Khanya "Konnie" Bessie Brown
Other names
Personality
Nice, Sassy, a little bit Ghetto, and magical
Appearance
Dark skin, puffy dark brown hair,
Birthday
May 24
Occupation
Affiliations
Goal
To upgrade her amulet
Home
DeSoto Texas

Gravity Falls, Oregon (For the whole summer)

Relatives
Unknown Mom (Mrs.Brown)

Unknown Dad (Mr.Brown)

Lulu (Big Sister)

Big Brother

Little Brother

Pets
Allies
Dipper (Boyfriend in season 2)

Mabel

Rayley

Daniel

Minions
Enemies
Pacifica

Allison

Bill

Likes
Anime

Narwhals

Drawing

Dislikes
People that think her style is too much.
Powers and abilities
Magic from her amulet
Weapons
Her amulet, Shield (Shown in Season 1, Episode 9),Sword (Shown in Episode 2, Episode 11)
Fate
Quote
"I'm secretly a pretend unicorn"
[Source]
Khanya "Konnie" Brown is the main character of I Just Visited Gravity Falls! Konnie took a summer vacation to Gravity Falls so she can be manager of The Mystery Shack. While walking in the woods, Konnie finds journal #4 and a magical amulet called the Potentiam Magicam. She likes to design t-shirts. She gets different color t-shirts and put different designs on it. Konnie is also a anime fan. In "Konnie Arrives", she sings in japanese as a weakness to a big wave of zombies. She gets the song from one of her favorite animes.
Appearance
Edit
Konnie wears a t-shirt with short shorts(she wears different shirts and shoes in every episode.) She has a dark brown afro and sometimes put it in a ponytail.
In most episodes, she wears a ponytail and her shorts are longer.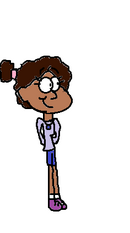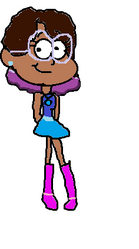 Konnie's hair is longer with purple highlights. She sometimes wear short dresses and purple rimmed nerd glasses.
Relationships
Edit
Dipper Pines
Edit
Konnie and Dipper are best friends. But,Dipper has a huge crush on her, but he doesn't want to tell her. But in season 2, they are boyfriend and girlfriend
Mabel Pines
Edit
Konnie and Mabel are the bestest friends ever to live. They're both into sparkly thing and both called "silly" from Pacifica.
Rayley Anderson
Edit
Rayley and Konnie are best friends, too. They are both fans on anime.
Daniel Sephan
Edit
Daniel and Konnie are best friends, also. They are very comedic together.
Pacifica Northwest
Edit
Konnie and Pacifica are moral enemies. They have always been enemies since Episode 3.Pacifica thinks that Konnie is an over-reactive fangirl.
Allison Leward
Edit
Allison and Konnie are enemies. They have always been enemies since Episode 3.
Konnie can speak Japanese (When she is scared or mad, she swears in Japanese,)
She is based off a real Gravity Falls fan
Back at Texas, people had called her, clumsy, silly, and childish, which shows her personality.
Like other female Gravity Falls characters, they have at least 2 or 3 eyelashes. But, Konnie has 4 eyelashes
Even though Konnie is younger than Mabel and Dipper, she is two millimeters taller than them.